No kittens available, decision pending on the current 5 kittens. Waiting list is closed. No other pregnant females at this time.
We have 2 kittens from Caramel/Jaime.(DOB Feb 28) Seal Lynx mitted. boy and girl. On hold.
3 kittens from Twinkle/Jaime.(DOB March 1) Seal Lynx Bicolor. one girl and two boys. On hold.
"Blue Knight" Blue mitted one year old altered boy available for adoption in May-June. $650.
"Caramel" 2 years old spayed female available for adoption in May-June. $350.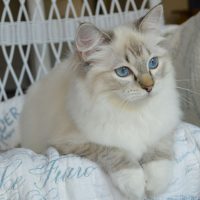 Waiting List with deposit received:1. Y. Shan(Jan 10), 2.F. Zhu(Jan 26), 3.Margaret C.(Jan 29), 4.T. Li(Feb 28), 5. Myndi
"On hold" "under evaluation" means decision pending. May or may not become available. "Pre-booked" means deposit paid, viewing pending.  "Reserved" means the kitten has been chosen and deposit received. "Available" means inquiries are welcome.